Posted by darkeye on May 7th, 2009 filed in log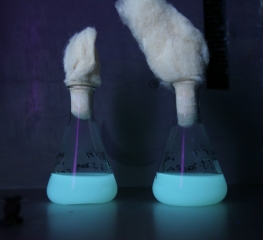 Maarten de Smit has pinpointed yesterday the problem we've faced so far: the concentration of arabinose used was wrong. The protocol page I wrote last year was ambiguous – is it a 5mg/ml arabinose concentration to be used, or is the final concentration of arabinose 5mg/ml in the liquid culture / LB agar? It turns out, it's the latter, and we need to use a 20% arabinose solution to fix the problem.
So here we glow again.
Unfortunately, as I have only one day to prepare plates and print them, the installation will be a bit downscaled. From a Sinclair ZX Spectrum screenshot, I'll go for Space Invaders imagery, which can be set up more flexibly, even on the site. Printing a bunch of aliens on separate plates makes it easy to assemble the final picture on location.