Posted by darkeye on March 27th, 2008 filed in log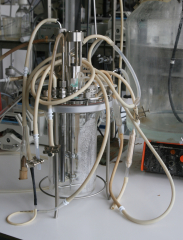 Today I had a chance to look at ways they are keeping yeast and bacteria and similar organisms active for extended periods of time. The idea is that you have to control their apetite for replication, have to provide them food and clean their excrement. This is all done the way you'd think from a 1950's movie: tubes lead in and out of a container, carefully controlled to provide growth inhibitors, nutrients and get the unneeded stuff out.
Quite interesting and elaborate, actually.